Catalogue: bomb032
Formats: CD
Released: Jan 2012
The second album from local legends Homebrew.
Back once again with ten blasts of good, old fashioned street punk, Homebrew are calling Last Orders, in part a reference to the number of pubs that seem to be closing, running themselves down or just plain struggling in this current economic climate.
Of course that climate hasn't effected the band. It took them 14 long years to come up with their debut album, The Heart of Insurection, and yet this arrives only 2 years later - certainly a sign that the band are bordering on prolific in their old age... Or perhaps, in true punk rock tradition, they just needed a Conservative government under which to really find their rage?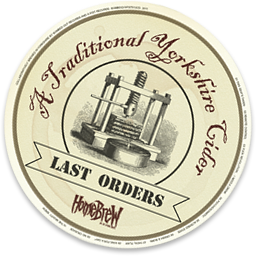 Regardless, Dave Albatross, John Homebrew and Lee Elite are taking a few chances this time around. Whether you're talking the full bodied This Seat's Taken, the anti-corporate football anthem Remote Control, the more measured Altered State (is that a homage to Fleetwood Mac's The Chain I hear?) or their cover of Chaos UK's classic anthem, King For A Day, the band have thrown everything but the cider press into this one.
As always, cheers.
Tracks
This Seat's Taken
Remote Control
Fuck Revoltion... I Need a Drink
Psychosomatic
Altered State
Crash & Burn
Fatal Flaw
King For A Day
No Crusade
The Mighty 'Brew
Engineered and mixed by Mark Sturgess & Homebrew at Soundstation Studios in Horbury, early 2011.
Dave Albatros - Bass & Vocals
Lee Elite - Guitar & Vocals
John Homebrew - Drums
Discography
Homebrew - Monarchy in the UK CDEP | 7"

2001 (Dislocate Records)