Joe Ninety
Intelligent and melodic punk rock - the best thing to come out of Whitehaven since grid-based town planning!
Whitehaven, Cumbria, 1997: Three friends who shared a similar taste in music formed a band and after hammering out decidedly dodgy covers (Fugazi, Bad Religion, Descendents and Snuff songs come to mind) and a couple of their own songs, Steve, Andrew and Lee all relocated, for one reason or another, down the country to Leeds/Bradford.
It soon became apparent that Lee, essentially an egomaniac, wanted to play guitar and sing, so the search for a replacement drummer began. After much discussion and some drunken near misses, the band were finally introduced to Rob mid 1997 being told, vaguely, that he played drums.
The band actually remained nameless for longer than is healthy before the name "Joe 90" was decided upon (on the flip of a coin). After practicing for almost a year they played their first gig in early 98.
Given that Andrew's brother, Steve Jackson (that's me) also ended up moving down to the same area (well, Harrogate at the time), had gone to school with Lee and Steve, and had a spare few hundred quid in his pocket Bombed Out Records was formed... essentially just so that Joe 90 could record and release a 7" (other labels weren't too interested - boo hiss). Who would have thought that from those humble beginnings that Bombed Out would go on to be the UK's premier punk uber-label eh? Erm, anyway, I digress...
Joe 90's debut 7" was a little beauty - even the band were shocked at how well their rough-around-the-edges-pseudo-Snuff-styled pop punk translated to vinyl!
In the year 2000, Joe 90 changed their name to Joe Ninety (to avoid confusion with a US band and a dance DJ) and under that name released their debut album, Lifetime of Empty Threats, early 2001. Great reviews followed with Four Letter Word's Welly calling it the best album by a UK band released that year.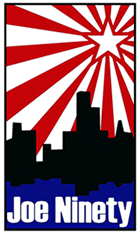 In 2002 the band recorded 6 new songs that would go on to make up the Blueprint for the Inevitable mini-album (released in January 2003), one song being a cover of Dugong's "Last time I was this happy I was killing someone...". The release was followed by tours across the UK and Ireland with Four Letter Word and Fig. 4.0 and later with The Leif Ericsson.
Great things never last forever though and Joe Ninety formally called it a day following their appearance at New Year / New Start 2004. There were tears.

Today, Lee and Andrew make up 1/2 of The Dauntless Elite while Steve and Rob joined up with ex-Dugong front man Matt to form The SWord (now split). Lee and Rob were both also in Tatako for a while and Lee continues to play in the mighty Homebrew.
Joe Ninety have even reformed a couple of times (most notably for Lee/Steve Bombed Out's 30th Birthday bash where Snuff also played - much to everyone's chuftness) and though at-time-of-writing no more reunions are planned you never quite know with these lads...
Andrew Jackson - Bass
Lee Wall - Vocals & Guitar
Rob Wolfe - Drums & Vocals
Steve Hunter - Guitar & Vocals
Discography