Saturday's Kids
Another fantastic band from South Wales, Saturday's Kids play fuzzed-up, grungy post-punk that's not afraid to stray from the beaten track.
Taking their musical cues from the likes of Fugazi, And You Will Know Us By The Trail Of The Dead, Mission Of Burma and Sonic Youth, Saturday's Kids are nothing if not currently unique in our fair land. They specialise in tense, interwoven guitar sound scapes that build until the post-rock ends and all you're left with is pure, unfettered hardcore punk, all the while little flourishes of melodic guitar add texture as Sion and Rhys alternate between screams, shouts, whispers and, yes, "proper" singing.
The band formed in the spring of 2008 in the small market town of Abergavenny in South Wales and quickly became a part of the Cardiff area's bourgeoning music scene - a scene that spawned some fantastic bands from the likes of The Take and Four Letter Word to Facel Vega and Harbour.
They quickly self-released a couple of fantastic demos/EPs and a split with friends Évariste Galois (Sion from Saturday's Kids is also in this band - the Welsh music scene being almost as incestuous as the Leeds one!), before really hitting their stride on their debut 7". Released by the brilliant Art For Blind Records in 2010, this record completely blew us away as it weaved from Kill Sadie-esque screaming hardcore, through the finest song to ever steal a nonexistent Dead Kennedys riff and get away with it ("Spiders Legs") and culminating in some pensive, lo-fi sounding post-rock. It seemed inconceivable that one band could try its hand at so many varying styles and bloody well succeed at them all - all in the space of 3 songs. We were hooked.
UK tours and visits to Europe followed, along with a split 10" with Kids Return on Art For Blind/sncl/Time As A Color Records which allowed Saturday's Kids to expand their sound further (what with the snotty post-punk of "Whisper In My Ear" and the almost Codeine sounding serenity of "Unattainable"). They also recorded a session for "über-fan" Adam Walton's BBC Radio Wales show, Adam being a man who has heaped praise on this band since day one, referring to their music as "febrile, ominous hardcore-ish fuzz that sounds like Fugazi being sucked through a wormhole. There is something massive and pricelessly unpredictable about Saturday's Kids. Unique and thrilling." We couldn't agree more!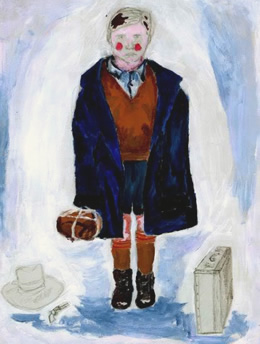 It was at this juncture that Sion got in touch to see if we were interested in getting involved and, in the euphoria akin to finding out that the girl you've always liked also likes you, we said YES. Of course we said yes!
Which brings us to the band's self-titled 10" which is a split release between ourselves, Art For Blind and Germany's Time As A Color Records. 5 songs, again building on what Saturday's Kids have done before and again showing a general trend in experimentation as the band perfect their sound.
Now to start bugging them about a debut album!...
Sion Thomas - vocals & guitar
Rhys Briggs - vocals & bass
Jordan Everitt - guitar
David Sandford - drums
Discography
Saturday's Kids / Kids Return - Split 10"

2011 (Art For Blind / sncl / Time As A Color)

Saturday's Kids - s/t 7"

2010 (Art For Blind)