Follow us: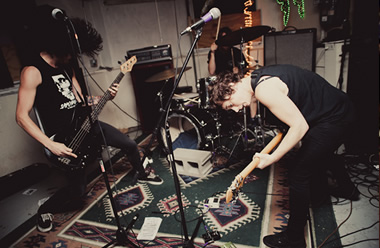 Posted: 11th June 2014

Tagged: Saturday's Kids

Saturday's Kids have only gone and recorded an album, and it's a bloody belter

Aptly titled The Lunatic, the new album from Welsh post-punks Saturday's Kids is a joyously aggressive and spiteful affair. In the past the Kids have meandered from abrasive emo to pensive slowcore and back again - not only across the breadth of an EP but often in the same song - garnering them comparisons to everyone from the late-90s Gravity bands to the likes of Codeine and ...And You Will Know Us By The Trail Of Dead.

This new album could very easily be seen as two distinct and noisy EPs, held together by the more laid back, 8 minute, shoegazer influenced post-rock of "Love Breeding" which takes its sweet time to build and provides a respite from the more urgent tracks on the album. And it totally (and tonally) works. This is experimental hardcore, with a lineage that flows from the early 80s SST bands, via 90s grunge, all the way to current bands like Pissed Jeans or METZ.

The only downside is that it will be the bands last release as Saturday's Kids will soon be calling it a day. The band will play one last blow-out show in Cardiff before they go their seperate ways - details to be anounced soon.

Anyway, enough talk... Head on over to the Punktastic website to hear new song, "Useless", now. Oh, and feel free to pre-order The Lunatic via Bandcamp - the album will be back from press towards the end of July.



1st June 2014

27th January 2014