Follow us: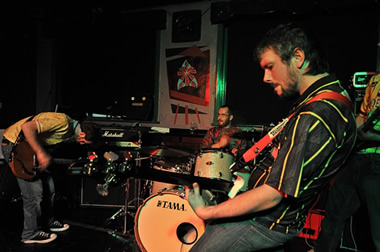 Posted: 8th October 2014

Tagged: Slow Science

The second Bombed Out band to split in as many months, Slow Science played their last handful of gigs in September.

One of our favourite UK bands of the last few years, we are sorry to announce that Slow Science are no more. The band played a blinder in Leeds recently with The Dauntless Elite (where the above photo was taken - yours truly ruining the bands aesthetic by popping up in the middle) as part of their final tour. Proving, once and for all, that they were one of the most satisfyingly unique punk bands we had heard in a long time and, as rusty as they claimed to be, one of the best live bands.

It should go without saying that we have no regrets on getting them to line up alongside Leeds' finest on their new split 12" - their 2 tracks are as good as any to have appeared on any Bombed Out release to date.

There's not much to say that hasn't already been said so I'll just thank Jon, Stacey, Al and Paul, wish them all the best for the future (the new Axes record is going to be special) and leave you with a small snippet from the insert to the new record. It rounds things off nicely:

"[Thanks to] all our friends and families. All the bands we have played with over the years, promoters who have put us on, anyone who gave us a place to stay, fed us, came to see us, bought a record or a t-shirt. We've been Slow Science. You're Welcome."



6th October 2014

14th August 2014