Follow us: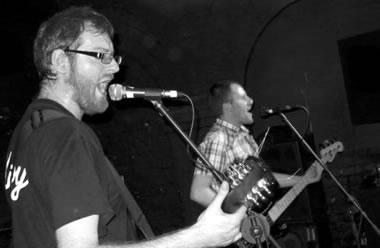 Dewsbury Socialist Club, Dewsbury
Line-up: Zapiain, Arms & Hearts, The Doublecross.

The Venue, Northallerton
Line-up: Gimp Fist, Homebrew, Geoffrey Oi!cott, Deadbeat At Dawn.

Monty's Bar, Dunfermline
Line-up: The Disturbed, Homebrew, Subvision, Geoffrey Oi!cott, Thirteen.
Posted: 18th March 2015

Tagged: Peachfuzz

The brilliant Peachfuzz return with their 4th studio album

The first Bombed Out band to make it to 4 full-lengths, Peachfuzz are set to unleash their new album in the not too distant future.

Titled Raise High Your Bright Halo Of Stars, Adam Jones and company have put together a magnificent selection of songs that deliberately and consistently meander from solid power-pop to pure rock and roll, all the while balancing the finest of melodies with Adam's gravely vocals. Adam still cites Teenage Fanclub (and, transitively, Big Star) as a major influence but there's no mistaking the fact that Peachfuzz have now been at this game long enough to ensure that they no longer feel shackled to the sounds of their heroes.

The image above is a teaser for the artwork and what better way to compliment it than with a teaser for the record. You can listen to the laid-back groove of "Trouble Came" below. Enjoy.



19th January 2015

24th November 2014