Follow us:
Now streaming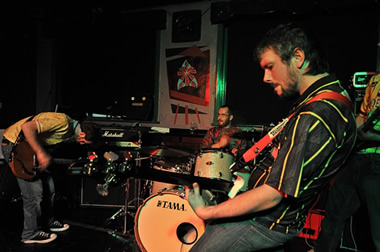 The Packhorse, Leeds
Line-up: The Amistad, A Great Notion, Zapiain, Andrew Cream, East On Main.

The Brudenell Social Club, Leeds
Line-up: Milloy, Apologies I Have None, Beezewax, Caves, Protectors, Woahnows, Night Flowers, Young Conservatives, Martha, Jaded Eyes, Stay Clean Jolene, Leagues Apart, Big Wow, Red Wolves, Keith Burton [OUT OF SPITE 14!].
Posted: 24th November 2014

Tagged: Stay Clean Jolene

It's been a long time coming but the debut album from Stay Clean Jolene is finally here.

Following on from their debut 7", Stay Clean Jolene return with a fantastic full-length which we are chuffed to announce will be out shortly on Bombed Out (and Just Say No To Government Music). We're getting involved in the CD edition while Drunken Sailor, Dead Boke and more handle the vinyl duties.

Comprised of half The Leif Ericsson (Will and Neil) and half of The Great St. Louis (John and Dan) there is no doubting the band's pedigree and we're happy to announce that their debut, self-titled album meets all expectations and then some. The band build on a host of influences - most notably the likes of Leatherface and the members previous bands - but it holds together magnificently, delivering 10 tracks of no-nonsense, mid-paced, anthemic punk-rock.

CD pre-orders will be up soon but in the meantime here's a taster:



8th October 2014

6th October 2014