Follow us:
Now streaming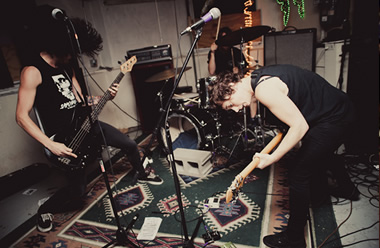 The Brudenell Social Club, Leeds
Line-up: Bangers, Caves, The Dauntless Elite, Syslak.
Posted: 19th January 2015

Tagged: Protectors

Wakefield's finest super-group present their second full-length, out February!

Next month the brand new album from the brilliant Protectors will land at Bombed Out HQ. On lovely pale green vinyl no less!

The 9 track album, titled Soul And Fire Is All We Ever Need, is already streaming on Spotify and can be heard in full on the Bombed Out bandcamp page. An absolute stormer of an album, it should go without saying how happy we are to be involved - especially as I've been bugging Chris Charlton about releasing a record by one of his bands ever since the old Pylon days.

This is indie-rock at it's absolute best - soaring melodies, fantastic song-writing, the layered male/female vocals (Chris is ably assisted by Bombed Out friend-of-the-family Kerry Allison this time out), the keys (from new recruit Mark Silcock), everything... Fans of everyone from Guided By Voices to Jimmy Eat World will find something to savour here.

Pre-orders for the record are currently being taken on the Protectors bandcamp page and it will be up in our distro as soon as it's back from press so check back soon.

Finally, Protectors are playing Wakefield this Friday with The Horn The Hunt and the other new Bombed Out band, Stay Clean Jolene. The appearance marks the final gig, for now anyway, with founding member Matthew Parkes who is moving to Thailand shortly. Head on down if you're in the area.



24th November 2014

8th October 2014

6th October 2014